A roadmap for usability and accessibility of elections
What is needed to ensure the usability and accessibility of next generation elections?
This project identified gaps to be filled and recommended approaches to ensure that all voters can vote independently and privately. The roadmap, created in collaboration with the National Institute of Standards and Technology (NIST) aimed to:
Increase the level of knowledge about how to create election systems with good usability and accessibility.
Promote consistent levels of usability and accessibility across all parts of the elections process.
Make systems more usable for everyone in the elections process, including voters, poll workers, elections staff, and advocacy or support workers.
identify the appropriate guidance—including guidelines for best practices, procedural support, and training—rather than a single focus on standards and certification.
A voter-centered approach
Work on the roadmap started by thinking about the voter journey, from learning about an election to hearing the results. This made it easier to focus on the voters' experience, rather than limiting the scope to the systems.
A Voter Journey Map  (Excel or printable poster)  describes the steps voters take in an election and identifies the systems, people, and policies that are part of the interactions voters have with an election.
We hope that this roadmap can serve the entire election community: election officials, people who design, build, or test elections systems, voters, and election advocates who share the goal of making elections more usable and accessible for all everyone.
White papers on voting system requirements
Since the roadmap was created, we have continued to work on research to fill gaps.
Working with colleagues on the Human Factors and Privacy Public Working Group, we wrote a series of white papers reviewing issues identified in a gap analysis of the current voting system standards. (Posted as Word files)
A design studio workshop explored ways to manage selecting and deselecting choices and ways to make scrolling or paging long contests usable and accessible.
A longer white paper reviewed new and emerging technologies and assistive technologies that might have an impact on how voters with disabilities interact at the polling place.
We conducted an analysis of the usability and accessibility requirements to see if we could meet the goals to provide useful guidance and standards and treat usability and accessibility in a single universal standard.
Exploring new election technology
Two projects addressed objectives in the roadmap by looking at how to make new technologies being used in elections usable and accessible.
Remote ballot marking systems. Remote ballot marking systems allow voters to receive a blank ballot to mark electronically, print, and then cast by returning the printed ballot to the elections office. This project developed principles for systems that are both secure and accessible.
The usability of electronic poll books. Electronic poll books are an example of new technology that is being rapidly adopted across the county. We developed a checklist for usability and accessibility, and piloted a usability test plan that election officials, state certification programs, and system designers can use.
A framework for guidance
Work to develop the roadmap covered a wide range of topics, so the roadmap is organized into six priority areas, from the design process to certification of specific systems. Each priority area is a goal for improving elections. Within the priority areas, there are 22 objectives, or goals for work that:
Identify gaps in current practice and knowledge
Provide an overview of the challenges and risks
Outline steps towards meeting the objectives
List existing resources to support the work.
The roadmap suggests a model for how different levels of guidance can work together, starting from principles for elections and including both core standards that apply across all systems, guidelines for specific systems, and useful materials such as training, testing methods, samples and scenarios.
In the larger work on updating voting system guidelines to address changes in technology and election administration, there is a goal to start from broad principles first, with guidelines and technical requirements clearly supporting those principles, as reflected in the model for guidance shown below.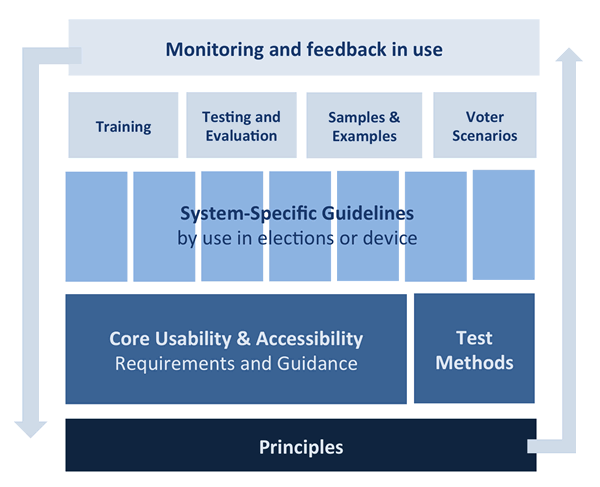 Why this roadmap is needed
Recent years have brought changes to the state of the art and technology for voting systems, as well as public expectations about how voters will participate in elections. There are new technologies, new research, new laws, and new elections procedures since the 2005 Voluntary Voting System Guidelines 1.0 were published. Keeping up with these changes requires a new approach to usability and accessibility guidance for election systems.
Despite 12 years of work within elections on standards for usability and accessibility, the reality is that there are still many barriers. Even newer systems show poor accessibility and usability, suggesting lack of knowledge of best practices and existing standards and guidelines. This is true of both voting systems and related technology. As more jurisdictions have switched to paper ballots, there is even more isolation of the "accessible" voting system.
NIST has worked on voting system standards since the Help America Vote Act of 2002, both establishing requirements for certification test labs and creating the Voluntary Voting System Guidelines (VVSG). The VVSG 2005 included the first comprehensive usability and accessibility standards for voting systems.
How we created the roadmap
The roadmap is the result of discussions with stakeholders such as the Election Assistance Commission, state and local election officials, system vendors, researchers, and others about the needs for better guidance for usability and accessibility of future election systems.
The input for this roadmap came from a review of current research on voting systems and active consultation with experts and other stakeholders in the field. We sought out diverse viewpoints so many different stakeholder perspectives are included. We held three workshops with experts including election officials, researchers, system designers, policy experts, and disability advocates, each focused on a different aspect of the work.