Designing for democracy: Once you get started, it's hard to stop
The Shasta County Department of Elections is building their brand. You might say it started with their mascots, Poppy and Cascade, who are part of their voter outreach program.
If you visit their Facebook or Twitter pages, you'll see that the "About" information is all business, with a mission statement, information for overseas and military voters, and a checklist for preparing for the November election—and how they will #BeReady2016.
But look further and you'll notice pictures of the department mascots, Poppy and Cascade, colored by school children and colorful chalk designs on the pavement in front of their office urging people passing by to register and vote.
Go behind the scenes, and you'll find another part of their work, featured in Designing for Democracy, a webinar by the Future of California Elections.
Cathy Darling Allen and her election department staff have given their manuals and polling place signs a make-over, along with their voter guides, vote-by-mail packages and other forms. The polling place notices feature large, readable text, simple images, and consistent colors to guide voters from the street to the correct precinct in the polling place (or polling site, in Shasta).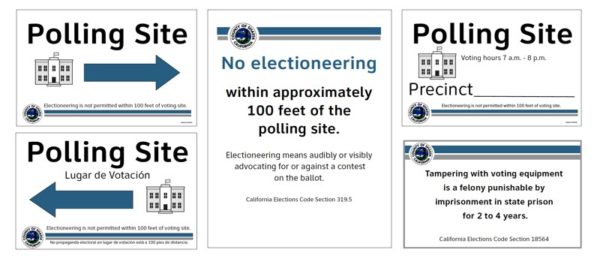 As Allison Denofrio, Assistant County Clerk & Registrar of Voters, said, "When people see these signs as they drive around, it will help remind them that it's election time."
The colors may not look like the traditional red, white, and blue, but they create a distinctive look, representing the natural beauty of the county and the colors in the county seal.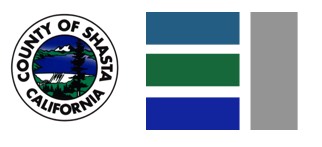 Documents like A Candidate's Guide to Running for Public Office, and the Poll Worker Manual have their own colors, used to identify them as part of the election materials and make them easy to tell apart.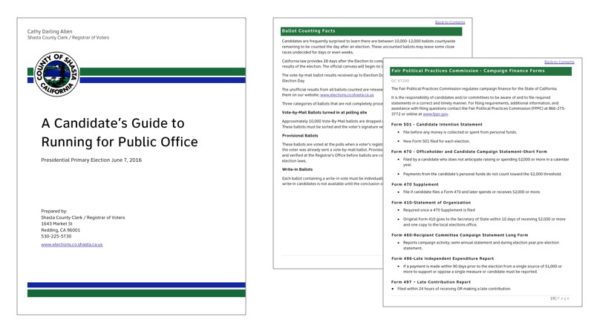 Of course, it's not just about design and layout. The "makeover" of these documents included editing to make sure that the instructions for candidates and poll workers help them do their part in elections accurately. They worked on organizing the information well, with good headings, plain language, and visuals that support meaning.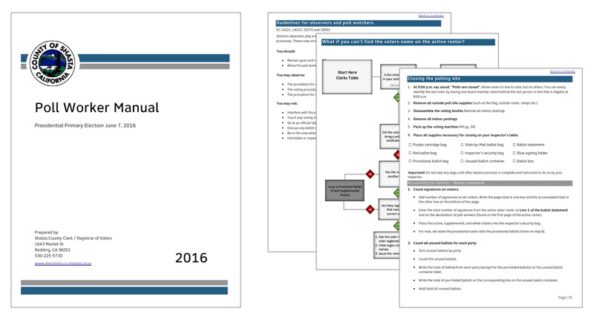 Think you can't do it? Just start small. Pick one document, or even one page of your voter information and give it a try. Ben Hamatake, Community Outreach manager for the Orange County Registrar of Voters, says that the first step may be the hardest, but it can become addictive.
Listen to the webinar: Designing for Democracy
Presented by the Future of California Elections, with speakers:
Gail Pellerin,  Santa Cruz County
Ben Hamatake, Orange County
Allison Denofrio, Shasta County
Whitney Quesenbery and Nancy Frishberg, Center for Civic Design
Moderator: Astrid Garcia Ochoa, Future of California Elections
Resources