Voter guides: Planning for multiple languages
Deciding early how to include multiple languages is important to the structure of the guide.  
There are several ways to handle including multiple languages in your guide. While there is no best way, there are nuances that should be considered when deciding what will work best for your districts. Importantly, make sure to understand the language rules for your state and how this will affect your layout decisions.
Common layouts for multiple languages
For those counties that require more than two languages, voter guides are generally divided into different books with one language in each. While not common, there are trilingual voter guides – with three languages. We do recommend sticking to two languages when possible.
Different layout options for bilingual books include:
Half and half:

this layout is two books in one with English in the front and the translated language in the back. The sample ballot is generally placed right in the middle of the guide to divide the two languages.

Top and bottom:

not as commonly seen, this layout has both languages on the same page with English at the top and the translated language at the bottom.

Interleaved:

this layout puts English on one page and the translated language on the back. The setback with this layout is that the translated language becomes hidden and may not be as easily found by voters.
A note about the interleaved layout – in testing in Santa Cruz, California we learned that it can be quite successful to have Spanish on the left side of a 2-page spread (that is with the booklet open) with English on the right, visually dominant side. We recommend this as the most readable version of the interleaving layout.
While the above layout types mostly separate the different languages, there are several pages that should have both languages on the same page. These are pages that would be difficult to include two of in the guide, such as the cover, the inside front cover, the back cover, and any forms. This also includes pages that have short bits of information and would leave too much white space if limited to one language.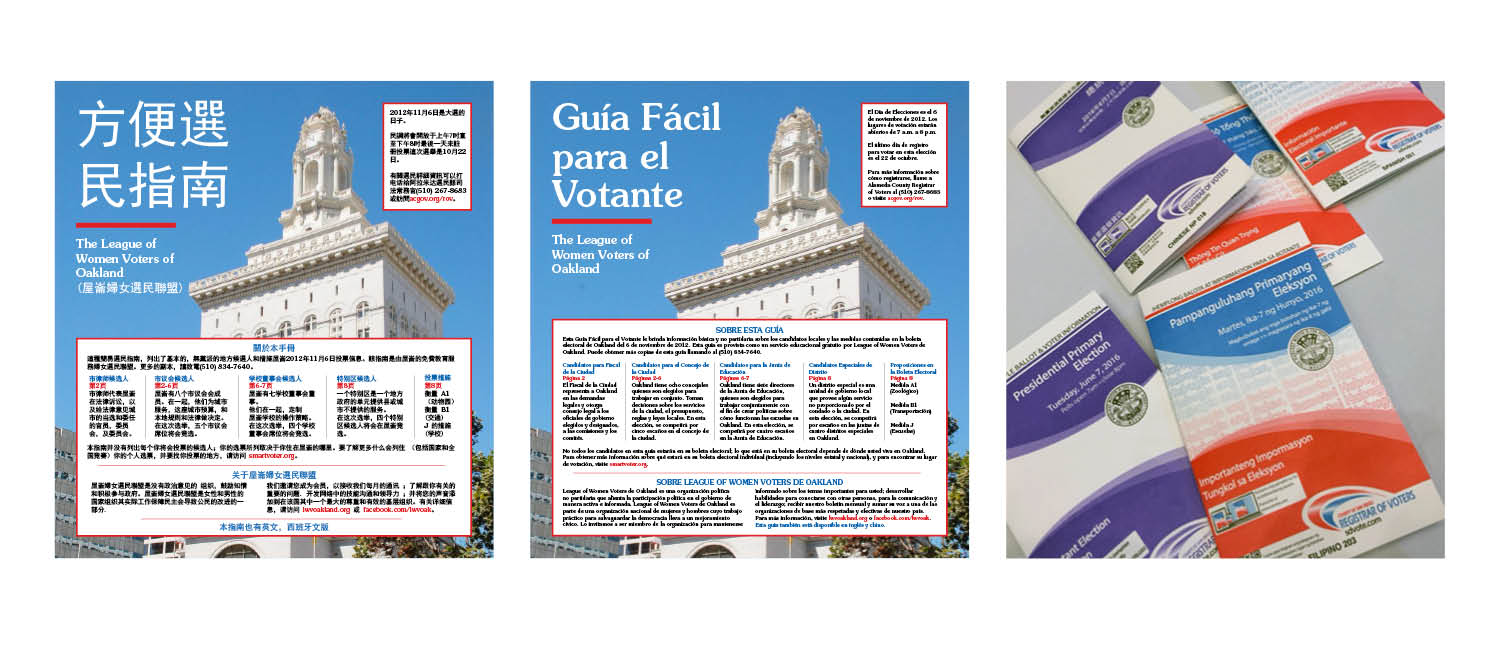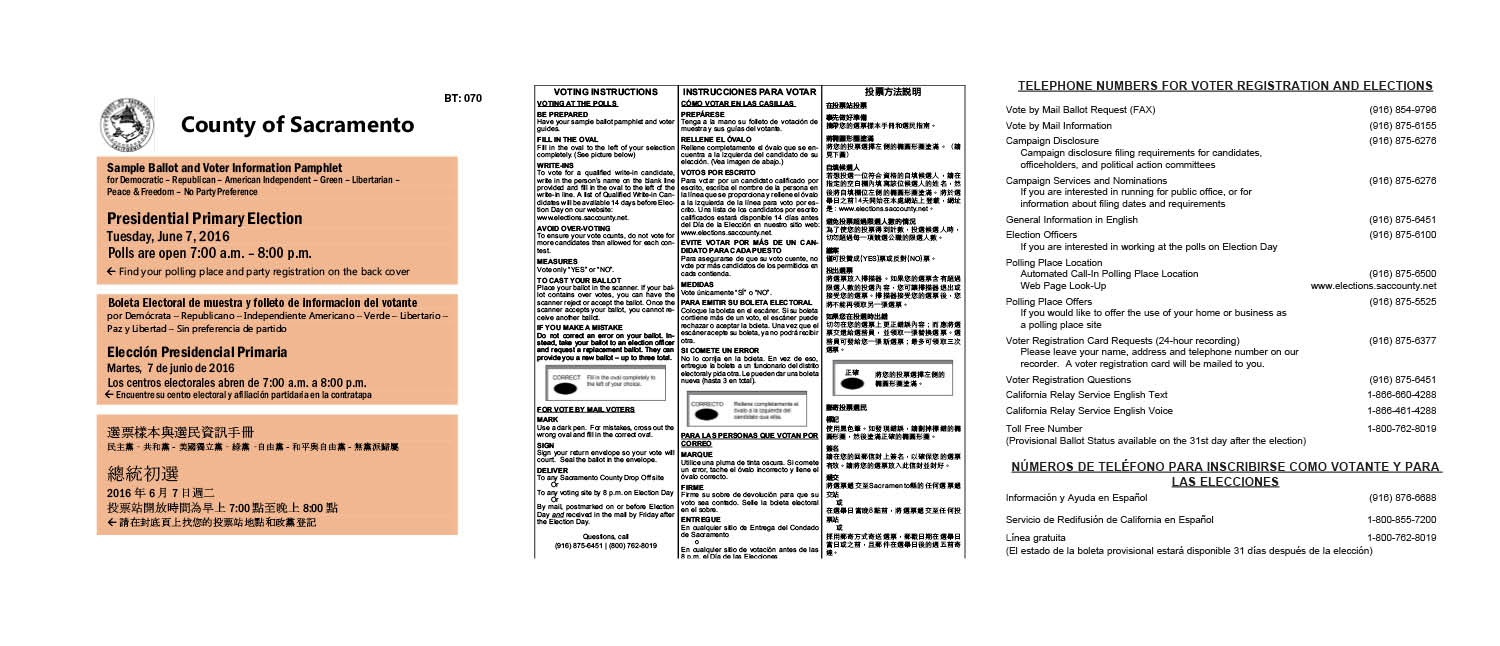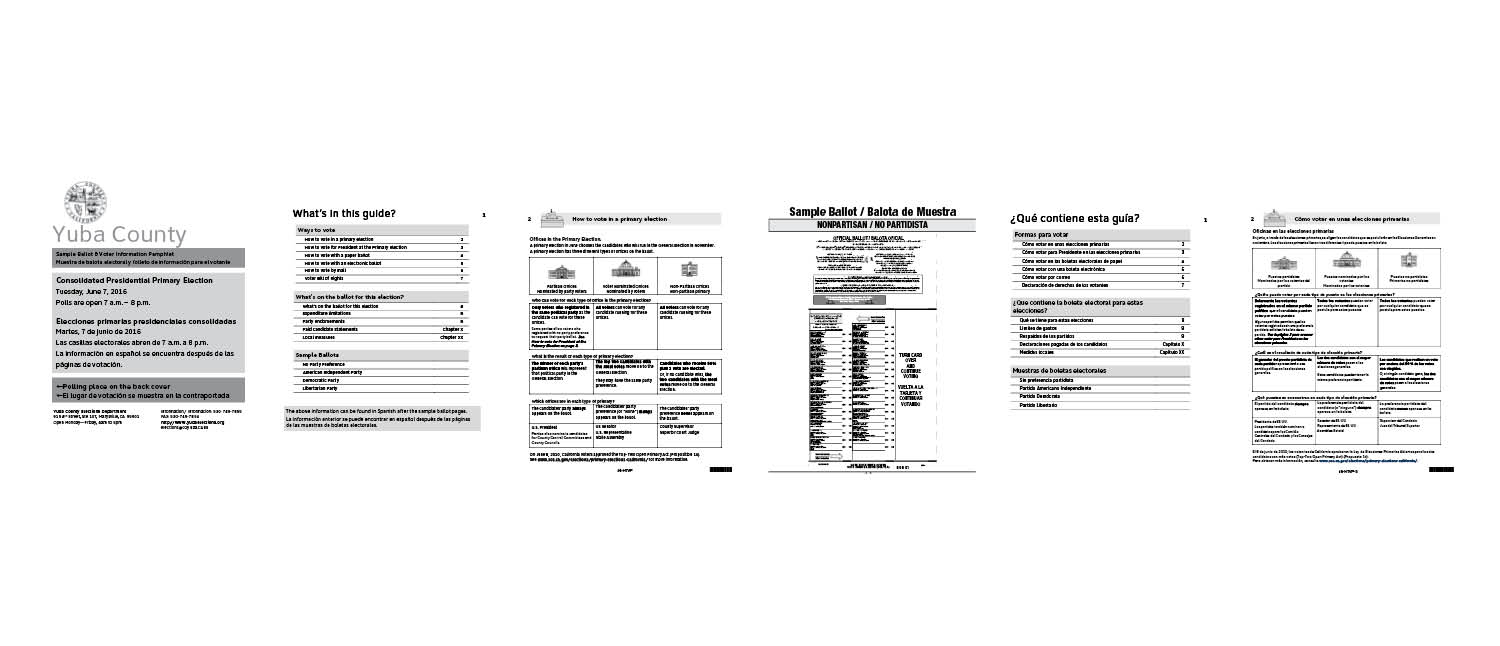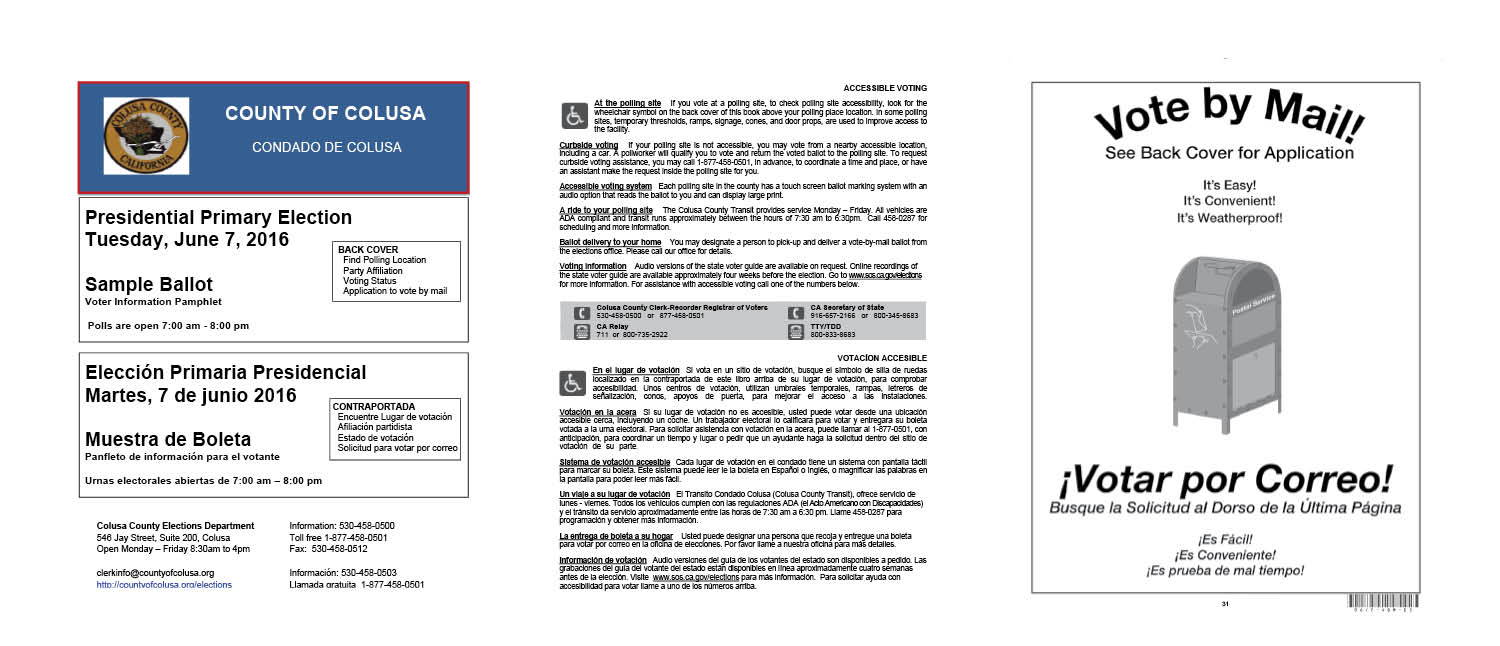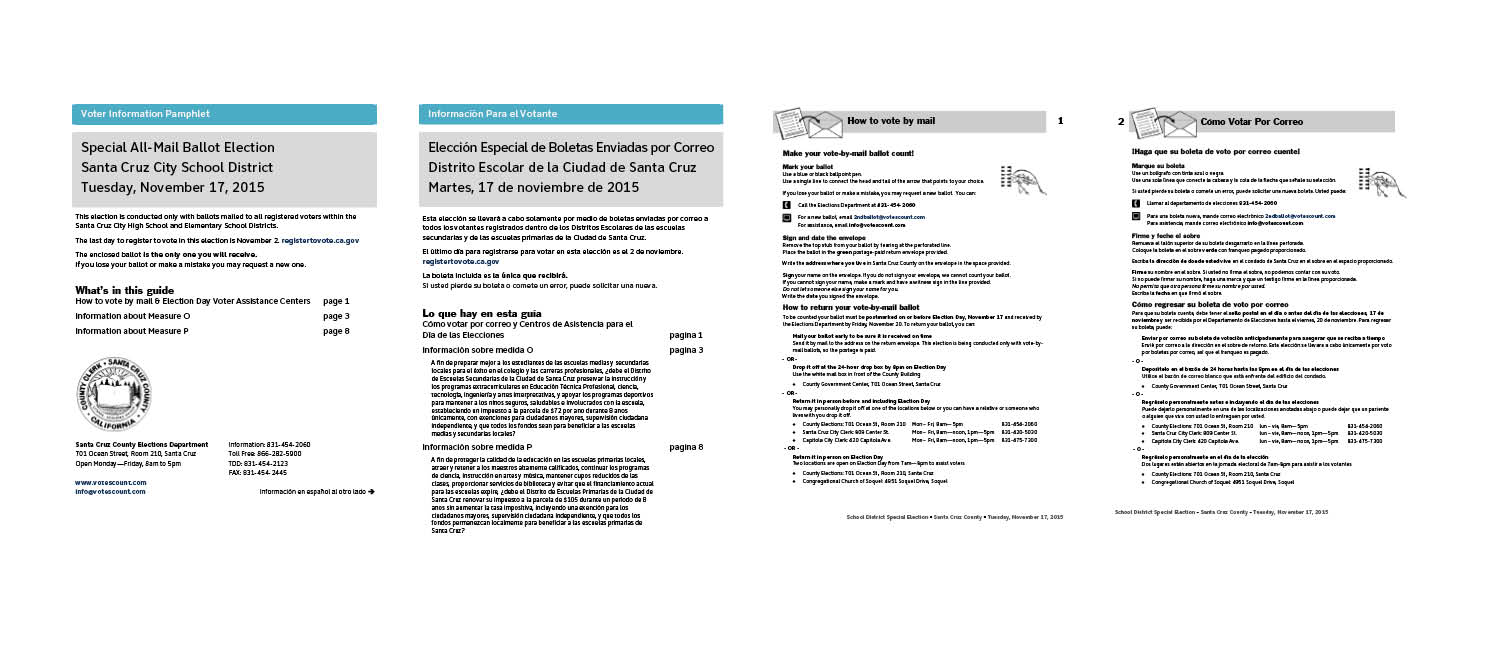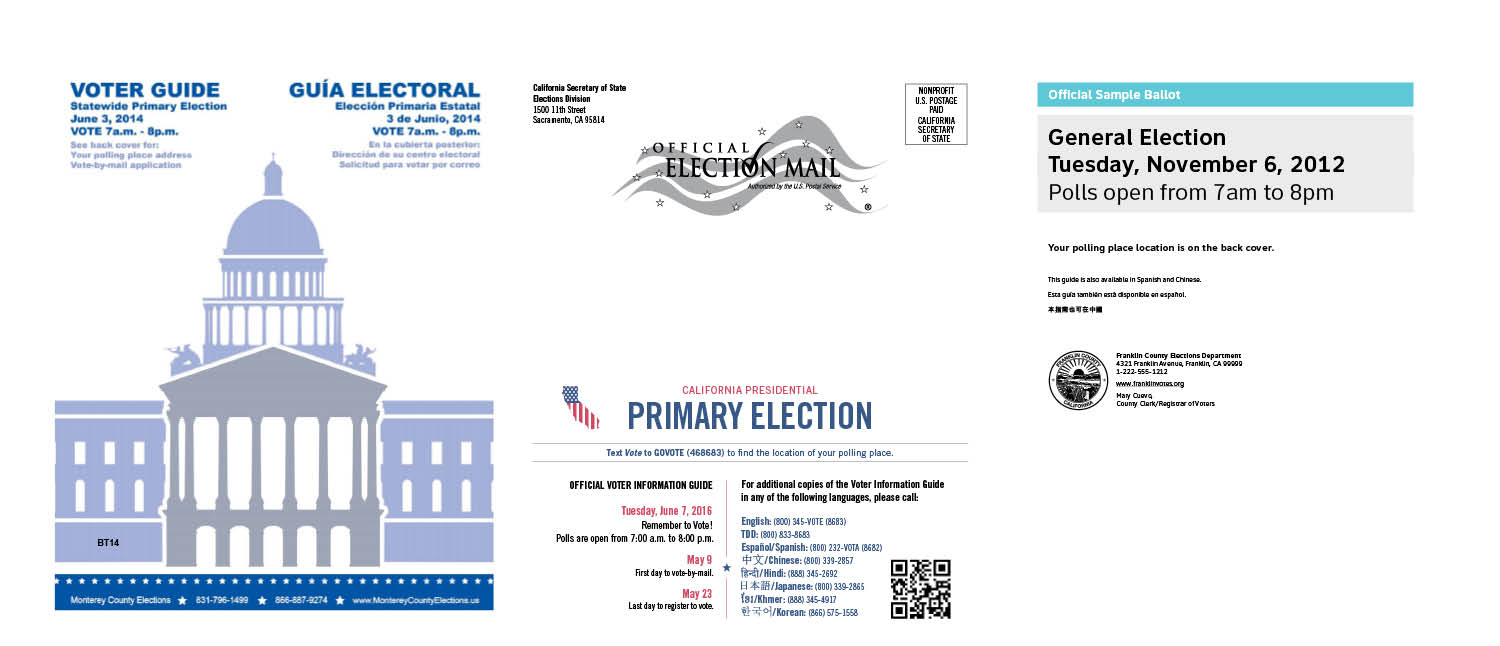 Tips for bilingual layout
When creating a bilingual voter guide with any layout, make sure to:
Be as consistent as possible with the layout. A consistent layout helps show voters how to find information in their preferred language.  
Signal the languages available in near the top of the page. This helps voters quickly see whether they have to scan the whole page for information in a specific language.
Use visual indications to differentiate the languages. It can be helpful to use a slightly smaller font size, using italics on forms, or even a slight color difference—as long as the visual differences aren't too large. 
Remember to mark languages in your word processor or on the web so that the guide is coded for the correct language. This will help screen readers know what language to use and how to correctly pronounce words.
Lessons from the research
Here's what we learned from testing in California:
Available languages must be visible on the cover and in that language, even if the guide is divided into different books.

Monolingual speakers of both Spanish and English preferred the languages in sections, such as in the half and half layout.  

Bilingual speakers preferred the interleaving facing pages layout because it helped them compare the two languages and improved their understanding. Being able to compare was useful for voters since some election words do not exist in Spanish or voters may be unfamiliar. Also consider that voters may have limited language in both languages, so showing both languages offers extra support.

Several English language speakers preferred the interleaved pages because they support language access or were curious. 

Testing in Los Angeles showed that it is harder to distinguish English from Spanish than from a language that uses a different alphabet or characters, such as Korean.
Resources
Your state may have an official glossary of election terms.
If not, the Election Assistance Commission has Glossaries of Election Terminologies in 6 languages: Spanish, Bengali, Chinese, Hindi,  Japanese, Khmer, Korean, Tagalog, Vietnamese