Minnesota gets new polling place signage with help from design students
What's better than hearing about a successful collaboration between election administrators and designers?
A project that brought together the City of Minneapolis and the Minneapolis College of Art and Design (MCAD) created beautiful new polling place signage that were used across Minneapolis for the 2016 primary and general. These signs were such a hit that they are now being made available across Minnesota for the 2018 election cycle.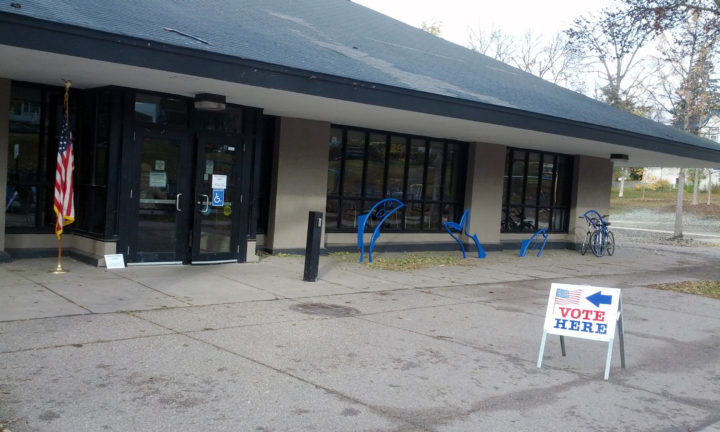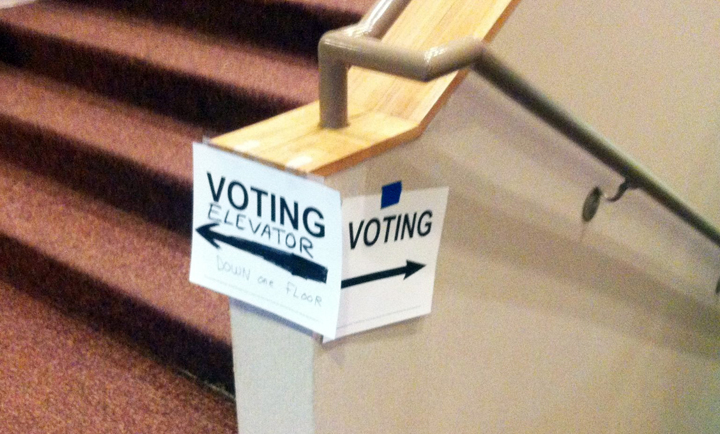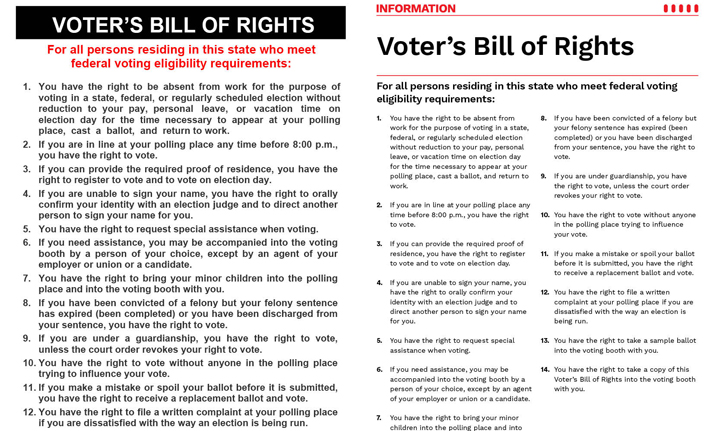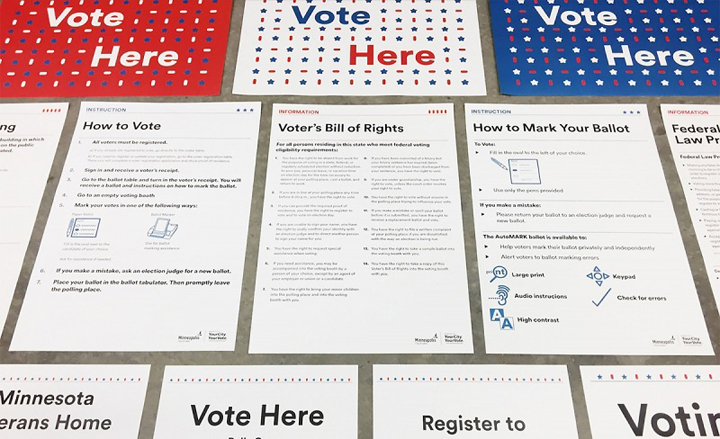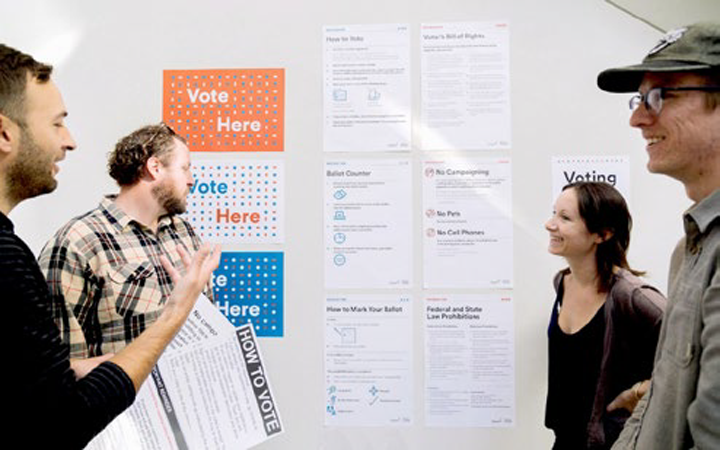 This collaborative effort had a serendipitous beginning. Minneapolis Elections & Voter Services was looking into ways to revamp existing polling place signage to create more consistency and clarity amongst the signs. Meanwhile, MCAD was already creating supplemental polling place signage for use at the polling place located on campus.
Inspired by work coming out of the Rhode Island School of Design (RISD) where design students worked on election signage, Minneapolis Elections decided to hire Design Works – MCAD's in-house design firm that gives students experience with real-world clients – to design new signage for Minneapolis' polling places.
The designers were hired to work on a design package to include informational, wayfinding and multi-lingual signage as well as what became a stars-and-bars pattern that can be used to create additional signs when needed. They also created an 'I VOTED' sticker design. To guide their process, the designers referred to Marcia Lausen's Design for Democracy: Ballot and Election Design as well as CCD's Field Guides to ensure the signage would display the information voters needed, but also present it in clear, easy to read, and appealing designs.
Tim Schwarz of Minneapolis Elections met with the designers several times over the course of the six months, and brought concepts and ideas back to City Hall for review and refinements, and to make sure signage aligned with laws and met the needs of the office and its poll workers. The Minnesota Secretary of State's Office also offered feedback, reviewing signage along the way and ensuring that language modifications were acceptable.
As part of their process, the designers hung their signs as they would be seen in a polling place to test legibility, but the real test was during the primary and general elections. And these signs passed the test! The Election Office received positive feedback from voters and Election Judges who came across them in early voting centers and all 132 Minneapolis precincts during the 2016 General Election. Election judges particularly cited the consistency and readability of the signs as key to their success.
Impressed by this success, the Office of the Minnesota Secretary of State is now making the signage available statewide. The Secretary of State's Office is planning to print and distribute the new Minneapolis signage along with other mandated signs to the 4000 statewide precincts starting with 2018 election cycle. The signs have also been made available online as digital files, so jurisdictions can access, make edits, and print additional copies.Even more exciting, is that Minneapolis and MCAD carefully worked to make sure that the signage would be open-source and available to Election Boards across the country. They have been released under a creative commons license and are available to download here.