Vol. 5 Choosing how to communicate with voters
Election officials have more ways to communicate with voters than ever before, from traditional printed booklets, to the web, radio and TV, and social media. During Superstorm Sandy, officials even used emergency service announcements to let voters know that the election would go on.
This Field Guide gives an overview of how to use each communications channel effectively. These tips are intended to help you think about how to coordinate election information across many different media.
Communicating with voters
Voters don't have a strategy for how they will get information about elections. They hope that it will be available in their favorite format, from printed material to social media.
They want to know when, where, and how they will vote, from finding their polling place to being reminded of how the voting system works. And they want this information in language they understand.
Most of all, they want the right information in the right format at the right time.
---
No. 01
Use the appropriate medium.
Tailor the level of detail to the delivery channel.
---
Plan to use:
printed booklets to help voters plan
your website to help voters take action
radio/tv to help voters' awareness of elections or changes
social media to keep the conversation going with voters before, during, and after elections
---
No. 02
Treat all communication as a conversation.
Choose a tone and voice.
Be polite, personable, and positive — just like you are in person.
Use personal pronouns, like "you" and "we."
Use the same voice across all media.
---
Before
How do I affiliate with a political party?
Voters may register with any of the state's recognized political parties. Choosing not to register with a party, means that the voter is "unaffiliated." Unaffiliated voters may not vote in primary elections, but may be able to vote in any nonpartisan primary election held in your jurisdiction, such as a primary election to select nominees for the board of education, and any general election.
After
Why should I choose a political party when I register to vote?
The main reason to register with a political party rather than choosing "unaffiliated," is to vote in partybased primary elections.
---
No. 03
Help voters move among media easily to get more information or take action.
Most voters will use information from various sources to learn about an election.
Consider the voter context and the timing within the election cycle for when you will deliver the message.
---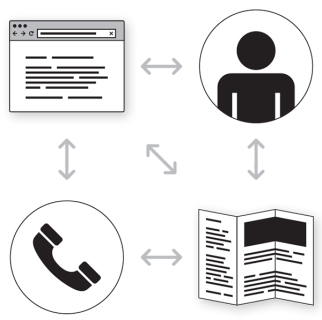 ---
No. 04
Show off your social media connections (but don't rely on them).
Voters who use social media will enjoy engaging in the online conversation with you.
Voters who don't use social media like to see that your department uses them because it shows you're up to date.
---
---
No. 05
Answer voters' top questions first.
Voters come to you when they're ready to learn and ready to do.
Answer their questions in the order they ask them. After that, you can add information they didn't know they needed.
---
Voters' top questions are:
what's on the ballot
options for where and how to vote
how to get a sample ballot
key dates
contact information
preview of what happens at the polling place
Note: A sample ballot helps voters decide whether to vote, and who and what to vote for, making it easier for them to mark their ballot on Election Day.
---
No. 06
Update your information early and often.
The web and social media are excellent for getting the word out on everything from changes in polling places to how long lines are at early voting locations.
Carefully highlight major changes in print materials.
---
Good sample tweets:
Last day to register for the Nov 2 election is Sept 30! Register online at vote.yourcounty.st.gov
Early voting starts on October 15. Find where to vote at vote.yourcounty.st.gov
---
No. 07
Make additional languages easy to find.
If you offer materials in languages in addition to English, make sure they are easy to spot and recognize.
Put links to other languages on all materials, even if they are small.
---
Before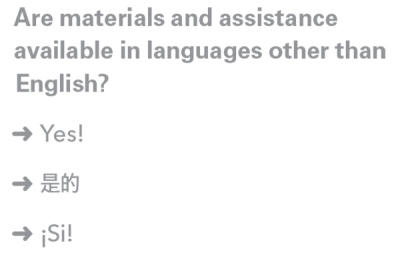 After

---
No. 08
Use visual design to build trust and show professionalism.
Choose a visual design that is somewhere between boring and cheesy, that conveys the authority and (friendly) voice you want your department to have.
---
Develop a common look and feel that works across all the media you publish in.
Choose illustrations that are relevant and useful.
Consider starting with design templates from Effective Designs for the Administration of Federal Elections (you can download them from the EAC website).
---
No. 09
Show who is responsible for the information.
Voters like to know who the people are behind the election. This helps them know who the authorities are. Include names, position titles, and contact information.
---
An example of good, complete contact information includes:
organization name
mailing address
general email address
website URL
main phone number
plus:
specific office / title
full name
direct phone number
direct email address
---
No. 10
Put a date on it.
Some of what makes information authoritative is whether it is current. Everything you publish should show a date.
Showing dates is more helpful to voters than just putting a "new!" badge on it.
---
Printed materials should show when they were published and the period they're good for.
Websites should show when the information was updated.
Social media will show relative dates (such as "updated 5 days ago").