Voter guide pages: What's on the ballot
Help voters see at a glance what they are voting for
Lessons from the research
This page is the introduction to the section of the voter guide with information about candidates, ballot questions, and the practice ballot.
It lists what contests are on the ballot.
Voters insisted they had seen this page before, even though it was new. They liked seeing a simple list of the contests.
In California, where voters receive two guides, one from the county and one from the state, this page also helped voters understand the difference between the two books, so they didn't miss any information about the election.
About the template
This page should start on an odd-numbered (right-hand) page, using a filler before it if necessary.
As the opening page of section there is no banner at the top, and a page title in large letters.
For voter guides in California the two columns show the covers of the two guides and lists the contests in each one. That way, voters know where to find information that is not in the current book.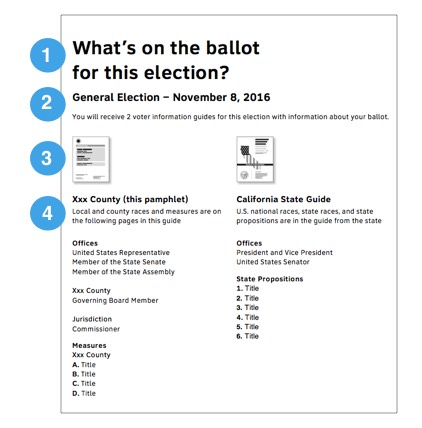 Page title: What's on the ballot for this election?
Name and date of the election.
Covers of the two guides voters will receive. And a brief description, showing which one is the guide they are reading.
Lists of the contests that will appear on the ballot, in ballot order. This list should be customized by ballot type. If this is not possible, be sure to add an explanatory note.
The template also includes samples of pages with general information, in this case information required in California. These pages come before the section of details about the candidates and their personal statements. They are included in this template because they are typically the same for all ballot types.
Word Tips
When the ballot is long, you may have to reduce the line spacing so all of the contests fit.
A large number of ballot questions with long titles can also be a problem, and may need to be truncated to fit.
→ Tips for accessibility
→ Tips for working in Word