People
The Center for Civic Design is led by co-directors Whitney Quesenbery and Dana Chisnell, working with this team of amazing researchers and designers.
Maggie Ollove

Maggie designs innovative services with a human-centered approach. Whether she is designing a training program for famers in Uganda or solving the challenge of child care for low-income families, she brings her skills in design-led research, workshop facilitation, and prototyping to find innovative solutions to social challenges.
Before joining the Center, she worked on projects for Tipping Point, Earth Day Network, World Bank, Concern Worldwide, and Memorial Sloan Kettering to make the world a better place. Most recently, she co-founded the Gma Village, a service that connects low-income parents who need child care support with a group of loving grandmas to care for their children. She and her collaborators received the Sylvia Harris Citizen Design Award for this project.
She holds an MFA from the Transdisciplinary Design program at Parsons The New School for Design and a BA in social history and photography from Oberlin College.
Taapsi Ramchandani

Taapsi is a civic anthropologist currently studying the politics of civic engagement for her doctoral dissertation. Her research looks at the creative ways in which Trinidadians interact with their local and national elected representatives to access basic services as well as demand good governance.
As an anthropologist, Taapsi considers herself an expert at asking too many questions. She is a qualitative researcher with a passion for writing and representing. In her bag, you are most likely to find some combination of a notepad, audio recorder, and laptop. She is also a self-certified nomad adept at street bargains in India, and classroom instruction in the US.
In her previous life, she was a features reporter with CNBC-TV18 in India, and Country Manager for Mela Artisans, a US-based company that provides an e-commerce platform for Indian artisans. She earned her Bachelor's in Economics and International Studies from Ohio Wesleyan University and her Master of Public Administration from the Maxwell School of Citizenship and Public Affairs, Syracuse University. Her doctoral program in cultural anthropology is also at Syracuse University.
Drew Davies, Oxide Design

Drew and Oxide Design Co. solve problems, realize meaningful change, help people, and make sense of the world. They have have worked on virtually all the Center projects, including the innovative Field Guides to Ensuring Voter Intent, the Anywhere Ballot, and designs for voter guides for the Future of California Elections.
Drew lead the AIGA Design for Democracy project, designing ballots and polling place materials for the Election Assistance Commission. The ballot designs still stand as examples of best practices for optical scan ballot design, and inspired the design of the Anywhere Ballot. He has served as the national president for AIGA, the professional association for design, testified at the Presidential Commission on Election Administration, and as a judge for the Communication Arts Design Annual.
And then there's the rest of the talented designers at Oxide Design Co.
Adam Torpin. An obsession for detail in his work on election forms and everything else.
Mandy Mowers. A writer at her core who believes that story and connection are communicated through good design.
Josh Schwieger. Constant drawing and sketching create a solid foundation to his design process.
Chris Walker. A web developer who understands that design is more than pretty aesthetics.
Nancy Frishberg

Nancy has a gift for communicating and teaching. An early adopter of playful methods to improve communication within teams, gauge customer satisfaction and gain user feedback, she was on the 35-person team facilitating the city of San Jose CA Budget Games. As a user researcher she explores new ways to answer the big questions about why and how people choose and use products and services with approaches from field work to experimental studies.
With a PhD in modern linguistics, Nancy brings an understanding of how language, culture, and context shape communications and interaction to designing products and processes. She has worked extensively on projects related to deafness and American Sign Language. Her book on sign language interpreting still serves as the basis for the national written examinations supervised by the Registry of Interpreters for the Deaf.
When she is not propagating succulents, she is an active member of the Bay Area user experience and accessibility communities.
Kathryn Summers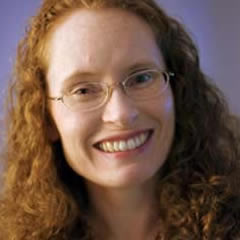 Kathryn believes that plain language and plain interaction can make it easier for them to take part in elections and other interactions with government. She has devoted her career to understanding how to design and write for people with lower literacy skills, older adults and people who speak English as a second language. Her work focuses on health literacy, forms design, accessibility, and access to information of all kinds.
Her work on design for low literacy shaped the design of the Anywhere Ballot and led to a report for NIST on best practices. She has also evaluated voting systems and web applications for usability and accessibility for the Maryland Department of Elections and the Department of Justice. At the University of Baltimore, she directs the graduate program in Information and Interaction Design.
Kathryn supervises the University's User Research and Eye Tracking Lab, which has been part of many of the Center's projects. The lab includes a state-of-the-art Tobii Eye Tracker and recording equipment and is staffed with graduate students who gain practical experience in research and civic design. You can find her publications on ResearchGate.
Ethan Newby
Ethan is the Center's statistical expert, borrowing him from his work as a usability consultant for companies fro Twitter to Microsoft. He worked with Dana and Ginny Redish on the use of language in ballot instructions, which supported the development of voting systems standards. Notable projects for the Center include the analysis of content on county election web sites and in California voter guides.
Ethan holds a PhD in cognitive psychology from the University of California, Berkeley. He teaches statistics in marketing research methods as an Adjunct Professor at Dominican University of California.
Rachel Goddard
When you see an analysis of the content of voter guides or other detailed collections, Rachel Goddard has been part of the work behind the scenes to make it happen. She brings an interest in the interplay of text and image to understanding election materials.

Laura Pointon
Laura keeps the Center on track as our administrator and bookkeeper. The rest of the time, she's a creative artist, running Scatter Matter Studio, where she creates whimsical pieces inspired by found objects.
laura@civicdesign.org
Would you like to work with us? Tell us about your passion for civic design.
Or, add your name to our list of UX professionals interested in working on a local project or flash test.